Erwin Van den Brande responds to a current trend he's observed, namely the timidity around nakedness and sexuality, which stands in stark contrast to the sexual revolution of the 1960s. Using vintage View Master images and nude images he created himself, he calls this prudery and voyeurism of 2018 into question.
Brass-framed photograph - Four panel – each 30x40cm – max 8 editions
The windows of the brass, sheet metal frames are not large enough to contain the photographs, inviting the viewer to edge closer in an attempt to take in the full photograph. By this act the viewer is confronted with his or her own voyeurism. As the distance between viewer and photograph closes, the gaze lights upon the subtitles, which further accentuate the inquiry on voyeurism and exhibitionism. What Erwin van den Brande seeks is to create a synergy between the viewer and the piece.
Photo mounting on LED-plate - Four panel – each 40x40cm – Black wooden frame – black velvet Mount – max 8 editions
The triptych always consists of a montage of View Master images from the sixties and nude images created by the artist, all backlit by an LED panel. Erwin Van den Brande's goal is to render the three-dimensional quality of the View-Master images into a two-dimensional frame. To achieve this, he overlays the images (transparencies are used) multiple times, consistently leaving a space between each stacked image. To the person observing, the images take on a holographic, three-dimensional effect. (This effect cannot be captured by a photograph.)
Messing View Master reel - 90x90cm - in wooden frame and against black velvet background – max 8 editions
In the previous century, during the 1960s, the future was looked upon with great anticipation of the things to come, whereas now, the past is looked on with a sense of nostalgia. When the View Master was first produced it was, for many, a means of discovering the world and encouraged a positive outlook on the future. It is for this reason that Erwin Van den Brande has elevated the View Master reel into a fetish.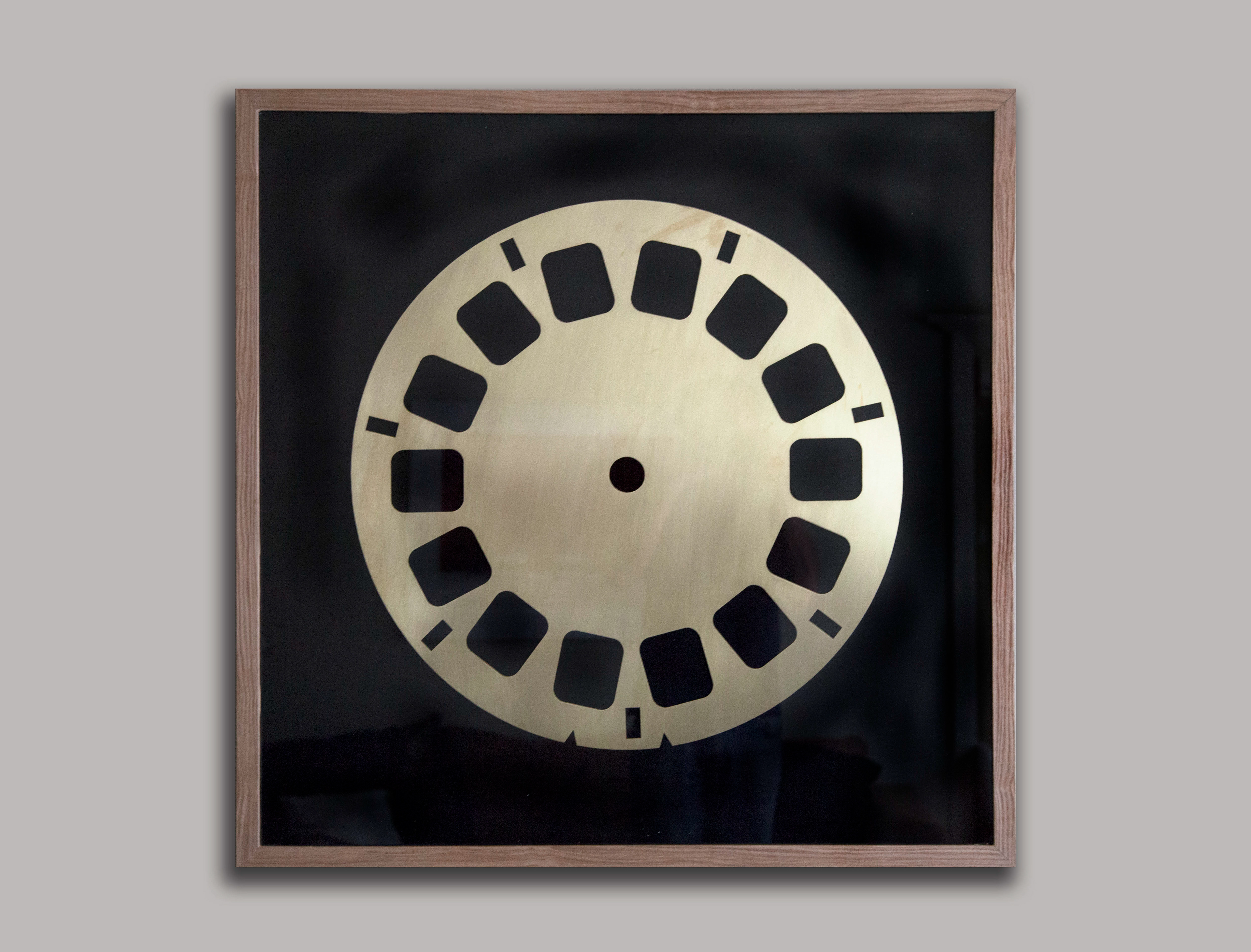 By working with photo montages, lasering text into the layered transparency, and adhering brass onto the glazing covering the work, Erwin Van den Brande seeks to transpose the View Master's three-dimensional effect into a flat frame, and in doing so a synergy between the viewer and the work emerges. Because there is a gap of a few centimetres between the photographs and the brass sheet metal frame, Erwin has, in fact, avoided censuring his work; however, he leaves it up to the viewer to decide whether he or she wants to see it all.
Modern Life is such an unholy mix of voyeurism and exhibitionism
60x80cm – mount - RAG Photo Print – white wooden frame – messing plate on glass of the frame – max 8 editions.
Sometimes I prefer to live in my own little bubble of my own reality
50x50cm – mount - RAG Photo Print – white wooden frame – max 8 editions
60x70cm – mount - RAG Photo Print – white wooden frame – messing plate on glass of the frame – max 8 editions
If I hadn't fallen, I wouldn't have met you
50x60cm – mount - RAG Photo Print – white wooden frame – messing plate on glass of the frame – max 8 editions