The art book with the most essential work of the last five years is ready. It contains about 50 beautiful photographs from the period 2010-2016. The photos are printed on high quality photo paper (Uncoated Proline of 150 grams). The book itself is finished with Hardcover and ImageWrap. There are three versions of the book. The first version is a smaller version of 20cm by 20cm. The second version is larger and is measuring 30cm by 30cm.
The third version is a copy of the large artbook autographed by the artist and includes a personal note and a loose print of one photo on high quality photo paper (size A3) and also signed.
The first two versions can be ordered through Amazon or Blurb. The links can be found below. The third version must be ordered directly from the artist.
You can see what is inside on the links below.
If you want them to order via Amazon (slightly more expensive) please click on this link: 
Amazon
To order the Large Version - Please click on the link behind the image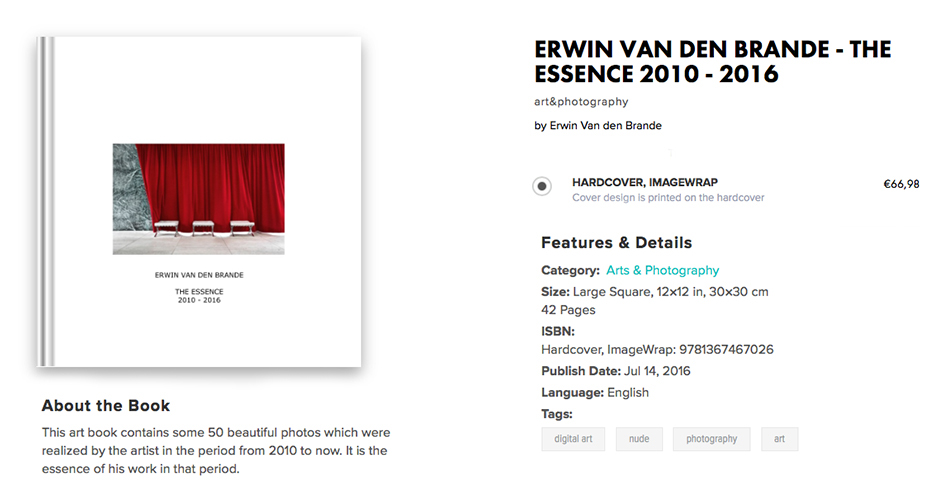 To order the Small Version - Please click on the link behind the image

To order the signed version with original print
If you want the large version (30cm x 30cm, Hardcover and Imagewrap) and autographed by the artist. With personal note of the artist included and a print on A3 photo paper of an image of your choice, please send me an email with all your details (name, address, invoicing details and the image you want as separate print): 
erwin@skynet.be
The price for this version is 200€ ex VAT